ABOUT TINA DONAHUE:

Tina Donahue is an award-winning, bestselling novelist in erotic, paranormal, contemporary and historical romance for Samhain Publishing, Ellora's Cave, Siren Publishing, and Kensington. Booklist, Publisher's Weekly, Romantic Times and numerous online sites have praised her work. Three of her erotic romances (Adored, Lush Velvet Nights, and Deep, Dark, Delicious) were named finalists in the 2011 EPIC competition. The French review site, Blue Moon reviews, chose her erotic romance Sensual Stranger as their Book of the Year 2010 (erotic category). The Golden Nib Award at Miz Love Loves Books was created specifically for Lush Velvet Nights, and two of her titles (The Yearning and Deep, Dark, Delicious) received an Award of Merit in the RWA Holt Medallion competition (2011 and 2012). Take Me Away and Adored both won second place in the NEC RWA contest (different years). Tina is featured in the 2012 Novel & Short Story Writer's Market. She was the editor of an award–winning Midwestern newspaper and worked in Story Direction for a Hollywood production company.


CONTEST:

Win 3 of Tina's backlist erotic romances from this list:

1. Adored – RWA award-winning; EPIC 2011 Finalist; 4 Stars RT

2. Deep, Dark, Delicious – EPIC 2011 Finalist; Holt Medallion Award of Merit

3. Lush Velvet Nights – EPIC 2011 Finalist; Golden Nib Award

4. In His Arms – SIX 5 Star Reviews; 4 Stars RT

5. Sensual Stranger – 2010 Book of the Year (erotic); 4 Stars RT

6. The Yearning – Top Ten Bestseller

7. Take Me Away – #1 Pick, Miz Love Loves Books

8. Unending Desire – Best Book Rating LASR

9. SiNN – Nominated for Book of the Week LASR

10. Sinfully Wicked – Magnificent – Romancing the Book

11. Claiming Magique – Top Pick – NOR

12. Illicit Desire – Four Stars Romantic Times

13. Come Fill Me – Five Stars – Guilty Pleasures

14. Losing Control - Four and a Half Stars - Sensual Reads

15. Shameless Desire - Four and a Half Stars - The Jeep Diva

16. Illicit Intent - Four and a Half Stars - Sensual Reads

17. Deep Within Me - Four Stars - Romantic Times

INTIMATE DETAILS:


As a computer hacker, she demands justice.

As a woman, she craves two powerful and commanding men.

Shana's been hacking one of Manhattan's most corrupt executives, making him pay for what he's done to his victims. Using her skills, she convinces Mike and Cody to hire her at their intelligence-gathering firm, where intimate details help their clients.

Never has Mike met a woman as delicious as Shana. Smart as hell, curvy and assured, she'd be a delightful challenge in bed. Cody's carnal hunger is equally intense. He and Mike want to know everything about her.

She won't divulge the secrets of her past. All she can offer is unquenchable desire and her heart.

During weeks of shameless lust and pleasure, Mike and Cody peel away the layers of Shana's life. The stunning truth changes everything. They'll do all that they can to keep her safe…and in their arms.

XRATED EXCERPT ALERT!!

Shana leaned against the closed door facing her men. Cody studied her as he backed up to her nightstand, blindly putting the six-pack near her lamp. She took off her right heel and tossed it. He watched the shoe's journey to her small area rug. Mike stared at the slit in her skirt, the length of her thigh it exposed. Shana's left heel followed the right.

Both men stepped toward her.

How she adored their need.

Smiling, she approached and gently shouldered past them to the bed. Like a well-trained team, they pivoted, following her every movement.

Shana settled on the edge of the mattress and eased her skirt to her thighs, exposing the lacy edge of her beige hosiery, the pale pink garter belt that held them in place.

"Uh-uh, no," Mike said before she could unsnap the garter. He moved closer and stared at her legs as if he'd never seen that part of a woman before. "Don't take off the stockings."

Cody joined them. "Definitely ditch the skirt and top."

"And underwear," Mike murmured.

Shana dropped her hands from the garter, but didn't remove her clothes. She rested her right palm on Mike's fly, her left on Cody's and lifted her face to them. Their expressions betrayed their surprise and pleasure. Beneath her touch, their cocks stiffened even more, their balls plump and firm. Shana's scalp tingled. Her pussy grew moist. "Take everything off," she ordered. "I mean it."

They exchanged a glance that excluded her then grinned.

Uh-oh. Now she was in for it. Her pulse beat faster.

Mike lifted her hand from his groin and kissed her fingertips. Cody bent down and brushed his mouth over hers. Neither of them obeying her directive.

Shana didn't mind. In the bedroom, she liked her men bad.

Mike stabbed his tongue between her fingers. Cody licked her bottom lip.

Her body softened and her soul begged for more.

As if they knew and wanted to deny her, at least for the time being, they both stepped back.

"Finished already?" she teased.

Mike shrugged out of his jacket, letting it drop at his feet. Cody loosened his tie.

An appreciative sound purred from deep within Shana. She made new, wanting noises as they continued to strip, neither of them caring where their clothes landed.

Mike stepped on his jacket as he undid his cufflinks, took off his watch then unbuckled his belt. Cody's tie and watch hung over two bottles in the six-pack.

Their shoes clunked on the floor, trousers dropped, shirts flew.

They were finally down to their socks and stretchy boxers—Mike's black, Cody's navy.

Off, please,

Shana's thoughts whispered, her attention riveted to the lovely bulges between their legs.

Again, they kept her waiting, tending to their socks first,

which they dropped on their other discarded clothing.

Shana leaned forward, taking both of them in. Mike's chest was nothing but hard muscle, slabs of olive-tinted skin, his small nipples the color of dark ginger, his tat more impressive and masculine than the pictures of it had shown. A silky stream of black hair swirled around his navel then arrowed beneath the waistband of his snug boxers.

His muscular thighs and calves were deliciously hairy, his feet large, toes long.

God.

Despite the room's mild temperature, the air felt too thick and close. She turned to Cody and had to keep herself from making any sound. He was so beautiful, masculine and hard, a light dusting of hair on his muscular chest.

Interrupted by a jagged scar on his right pec.

Instinctively, Shana bit her lip.

Although she'd seen many photos of his injury, those pictures hadn't revealed the full truth.

Cody's wound was four, possibly five inches long, the whitish skin bumpy, parts of his flesh gouged out. Plastic surgery might have minimized the imperfection. For whatever reasons, he hadn't opted for that.

Intellectually, Shana knew the injury couldn't have hurt him any longer. Emotionally was a different matter. Her throat tightened at the thought of the pain he'd experienced. How afraid he must have been, terrified that he might die.

She wanted to say something, but didn't know how to begin.

Thankfully, he hadn't noticed her staring.

He was too busy ogling her tightened nipples. Mike's attention was on her mound.

With his thumbs beneath the waistband of his boxers, Mike pushed the stretchy material over his lean hips, past his thighs and calves. Cody did the same with his. They stepped out of their respective underwear. Mike kicked his aside. Cody didn't bother.

Naked and proud, they faced her.

The room seemed to sway. Shana gripped the comforter to curb her dizziness.

Beneath a tangle of dark hair, Mike's cock thrust forward rigid and demanding, thick veins snaking down it. He was so damn hard, his crown was a deep scarlet, plump and shiny, a drop of pre-cum pearled on the small slit. Short, dark hairs covered his fleshy balls.

A wanton moan rose to Shana's throat. Her mouth was so dry it hurt to swallow.

Cody shifted his weight, drawing her attention to him.

His cock was thicker than Mike's though a shade shorter, its veins as prominent. The hair on his groin was a light brown, wiry and full. His balls were tight to his body, a ruddy color, the same as his shaft, as though his skin was cold. Shana knew better, sensing it was deliciously hot, just what a woman needed to chase away a chill or loneliness.

Perspiration dampened the back of her neck. She could scarcely breathe as they approached, both of them wearing wolfish grins, proving what they wanted.

Precisely what she did.

LINKS:
Powered by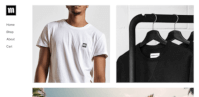 Create your own unique website with customizable templates.